You have already had the business discussions that lead to the decision to implement an SMS solution into your Salesforce org and now you are wondering just how to achieve that. The good news is that there are numerous ways to enhance your org with Salesforce SMS Integration, and today you will understand which way may be best for you and your business.
Why Should You Create a Salesforce SMS Integration?
In this day and age, there are multiple different channels that your customers may use on a daily basis. When you think about it, the best way to reach your customers USED TO BE through newspaper ads, letterbox drops, or radio ads – and that was almost the extent of your options. Today, you have the ability to catch your potential customer's attention while they are sitting on the couch and watching television – not through broad television ads but through direct SMS text messaging. SMS text messaging feels far more personal than a television ad, and even gives your customers the ability to respond immediately with ease through a channel that they are very comfortable and familiar with: their phone.
By setting up a direct Salesforce SMS Integration, you are able to communicate directly with your customers through SMS and have both the sent and received messages stored against their Contact record within Salesforce. This functionality is invaluable for any business looking to get in direct contact with their customers through SMS text messaging. After all, SMS text messages get an incredible 98% open rate compared to a 22% open rate for email marketing.
Salesforce SMS Integration Option 1: Set Up Long and Short Code Channels in Messaging
How to Set Up Native Salesforce SMS Integration
Salesforce has a native solution that allows your business to communicate through SMS, assuming you have an Enterprise or Unlimited subscription. You can use either an existing landline number or your business can use a new number.
To set up Long Code messaging (ie. to communicate directly with your customers through SMS on Salesforce) you need to ensure your User has the Configure Messaging permission. The process of setting up the Messaging Channel may take a little while to complete:
Firstly, navigate to the Setup menu and open Messaging Settings from the Quick Find menu.
Once you are there, click New Channel in the Channels section to open up the New Channel guided setup.
Click Start, then SMS, and download your Letter of Authorization.
Fill the LOA out and sign it, then open a case with Salesforce Help. You will need to attach your signed Letter of Authorization and provide your full Customer Legal Name and Customer Account Number.
Finally, click Finish.
Once Salesforce has approved your request, you will receive an email from them confirming that the phone numbers you outlined have been enabled for Messaging.
Limitations and Considerations
Unfortunately, being able to use Long Code Channels in Messaging through the native Salesforce solution is a feature only available to customers in the US or Canada. Salesforce also only supports in-country messaging (ie. Canada to Canada messaging only, not the US to Canada). If you require messages to be sent to another country, you will need to request a number from that country to be set up.
Native Salesforce SMS Integration is only available for Enterprise, Unlimited, and Developer Editions with Service Cloud or Sales Cloud. This option is also the most expensive, with the Digital Engagement Pricing starting at $900 USD/user/year, not including other add-ons.
You need to ensure that messages are limited to 140 bytes (approximately 160 characters) as anything over this limit will not be sent. It is also important to note that most non-English-based characters will often contain more data, resulting in a lower character limit for your messages. If your message is over 140 bytes, it will be broken down (segmented) into messages up to 133 bytes, and this is limited to 6 segmented messages being able to send together.
Salesforce SMS Integration Option 2: AppExchange Apps
Salesforce AppExchange marketplace offers plenty of texting apps, so we've put together a list of Top SMS Apps for Salesforce to make it easier for you.
If you want an easy-to-use texting solution with quick implementation, and that comes with customer support at an affordable price, then an AppExchange solution like ValueText would be the right option for you.
With apps like ValueText, you will be able to have 1-to-1 conversations from any records in Salesforce, send bulk messages, use templates, schedule messages, create automations, utilize chatbots, and much more.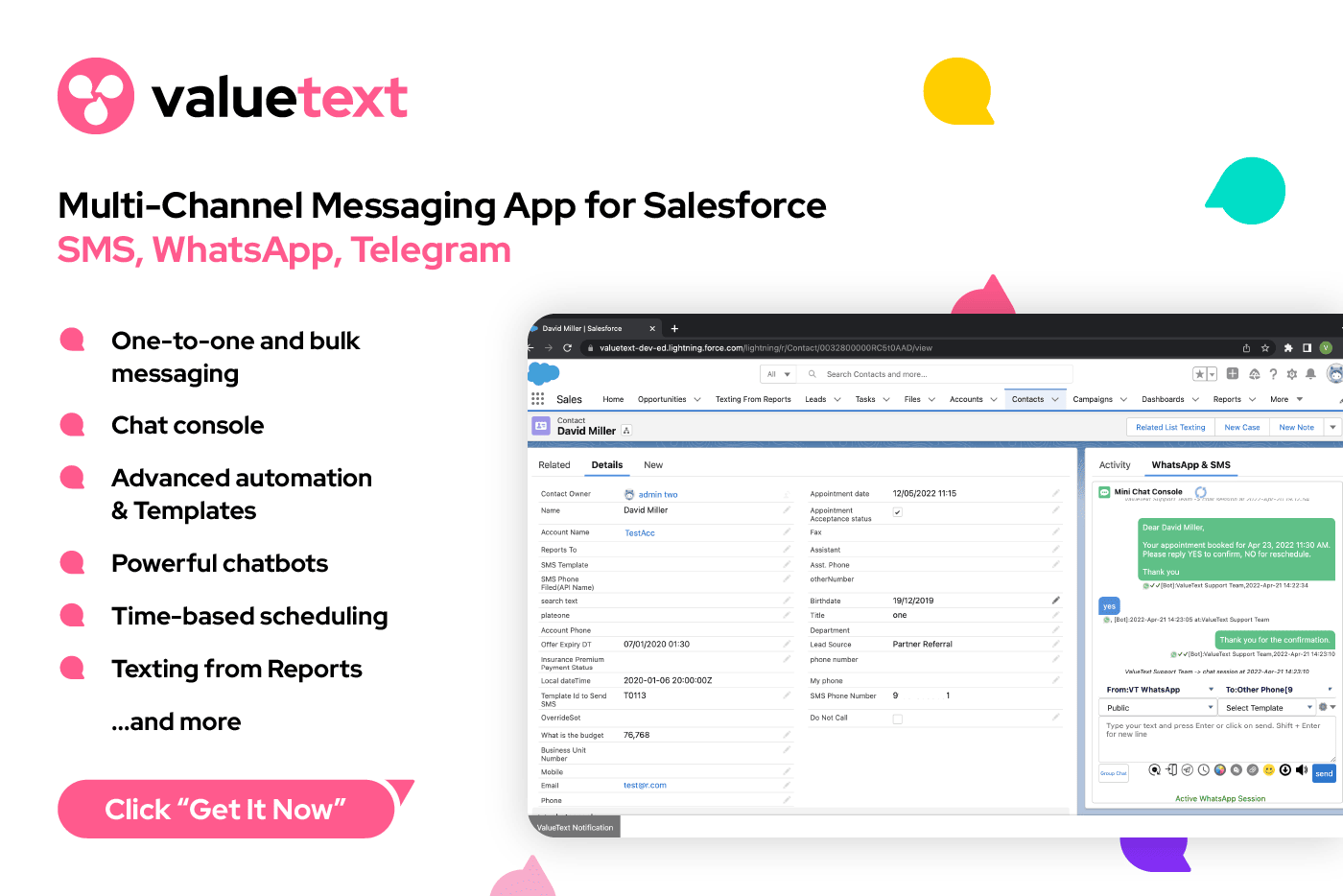 In fact, ValueText was the first multi-channel messaging app for Salesforce that on top of SMS and MMS messaging also added the functionality for WhatsApp and then Telegram.
Luckily, the AppExchange option to set up Salesforce SMS integration is also really affordable. ValueText pricing starts at just $5 per user per month. And you can try ValueText for free with a pre-loaded bonus balance.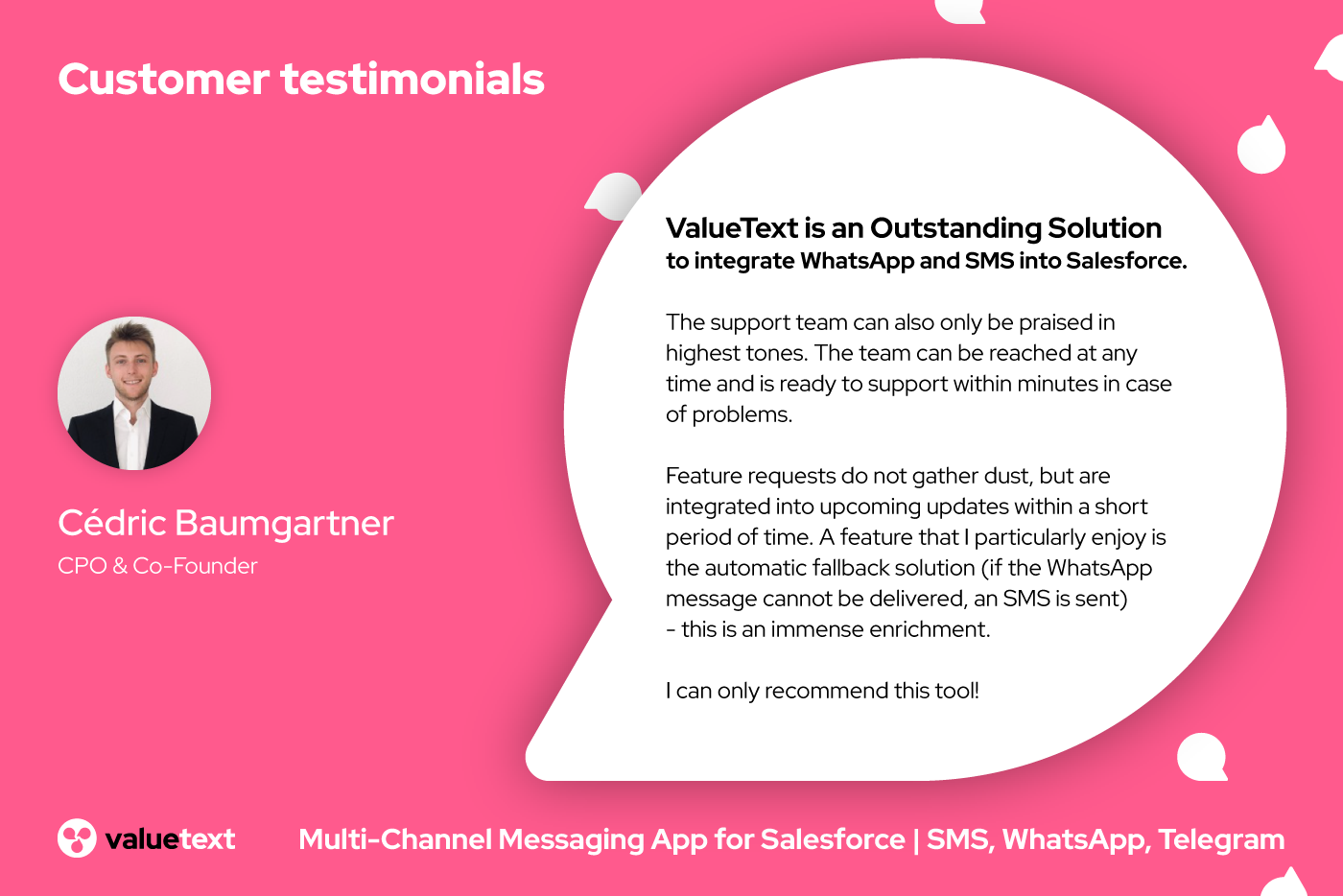 How to Set Up Salesforce SMS Integration with ValueText
To install ValueText, simply install a free trial of the selected plan with a pre-loaded bonus balance (remember to always install in Sandbox first!). Once the application is installed, jump into it and head to the SMS Setup tab, and follow the instructions to enable SMS functionality.
If you want to test the SMS feature, go to the ValueText website, make sure you are logged in, and click on Trusted Number. Input your Country and Number, and click Submit. You will receive a one-time password as an SMS which you will then be prompted to input on the site. Once you have validated your number, you will be able to send text messages through Salesforce. That's it!
To make it easier, you can even let the ValueText team configure the app for your specific use case and get some user training. Simply schedule a quick call with their support specialists to configure ValueText for your use case and provide training.
Salesforce SMS Integration Option 3: API
If you are the kind of person who likes to get your hands dirty, build things from scratch, and have full control over the solution, then connecting via a third-party API may be the option for you! That being said, because of the code-heavy nature of this option, it is also likely to be the most complex option as you will be building from scratch.
Although the API option might seem like a cheaper option at first, it will likely require a significant investment upfront to get the solution built. And you will also need to consider ongoing development and support costs for maintenance, quality assurance, and potential further fixes and enhancements of your integration.
Building an API-based Salesforce SMS Integration is going to take a significant amount of time when you consider alternative options like plug-and-play AppExchange solutions. Your business should take all of these factors into account when deciding if you really want to go down the route of developing your own Salesforce SMS Integration solution through API.
It might still be a good option for some, but the majority of Salesforce customers would be better off using a ready solution from AppExchange and having their Salesforce SMS functionality taken care of.
Summary
There is always more than one way to achieve a goal when using Salesforce, with SMS text messaging being no exception. The best option for the majority of Salesforce customers that are looking to gain the ability to send and receive SMS messages from the Salesforce platform is a third-party AppExchange solution like ValueText. ValueText can be easily integrated into your existing Salesforce system in just a few clicks and can be expanded down the track if you need additional messaging channels like WhatsApp, Telegram, Facebook Messenger, and more.