We all know that the world is getting more and more complicated with billions of people using thousands of channels to communicate with each other. As a business, it is important to make sure that the investment you are making to reach your customers and prospects is effective, and sometimes this means leaning a little bit less on older channels (such as email) and building a connection through modern channels (like SMS and Instant Messaging). In this article, you will learn about the Top 7 SMS Apps for Salesforce that integrate directly with your CRM and help to build a connection between your business and your customers.
Email is the New Snail Mail
Think about your email inbox right now. When was the last time you checked it? How many unread emails you've got there? You may have multiple email accounts – some personal (maybe an older one that receives quite a bit of spam) and maybe a work-related one.
Now think about how your friends, family, and colleagues get your attention. I can almost guarantee that the first thing that came to mind was an instant messaging service of some sort. SMS text messaging and services like WhatsApp are the way we communicate with each other these days. According to a Pew Research study, 97% of Americans use texting at least once a day. And these SMS text messages get an incredible 98% open rate compared to a 22% open rate for email marketing.
So if your business is looking to get the attention of your customers, then you need to start implementing SMS apps for Salesforce and other instant messaging channels into your communication strategy.
Go Beyond SMS. Consider MMS, WhatsApp, Telegram, and Messenger
There are numerous channels that your business needs to consider when selecting a messaging tool for Salesforce. Think about where your customers or prospects can be found. SMS and MMS are important, but your customers may engage even better using an instant messaging app like WhatsApp, Telegram, or Facebook Messenger.
Top Text Messaging SMS Apps for Salesforce
Salesforce's out-of-the-box functionality can be easily extended thanks to the best enterprise marketplace known as the AppExchange. You can find all kinds of solutions that fit your business requirements and have them installed in a very short period of time. Below are some of the best SMS apps for Salesforce that you can use to connect with your customers directly from your CRM.
1. ValueText
If you need an easy-to-use texting app with great customer support at an affordable price, then ValueText is a great option to consider. It is one of the leading Salesforce messaging apps when it comes to SMS, MMS, WhatsApp, and Telegram integration. Which makes it a complete multi-channel messaging app, natively built for Salesforce.
Whether you need simple 1-to-1 conversations or bulk texting from list views and reports, advanced automation or powerful chatbots, ValueText will get you covered. And your users can choose different chat view layouts based on their preferences.
ValueText also offers the ability to create Dynamic Templates that use Salesforce Merge Fields to pull data from Salesforce directly into your messages, minimizing manual work and making your messages more personal. And you can schedule messages based on a specific time, timezone, or even business hours.
While there is plenty of additional functionality for end-users, your management can simply use standard Salesforce Reports and Dashboards to track the performance of your messages. Super handy!
And to improve the efficiency of your team, with ValueText you can automatically send SMS and WhatsApp messages in Salesforce through native automation tools. This way you can instantly confirm scheduled appointments, send reminders to customers, special personalized offers, and more!
Unlike some of its competitors, ValueText also offers the ability to run without storing any data on the server. This allows customers with strict data privacy requirements to be able to communicate with their customers and prospects while still meeting security requirements.
Last but not least, ValueText offers outstanding customer support and affordable pricing, which starts at only $5 USD per user per month. You can try ValueText for free with a pre-loaded bonus balance or request a personal demo with their product experts.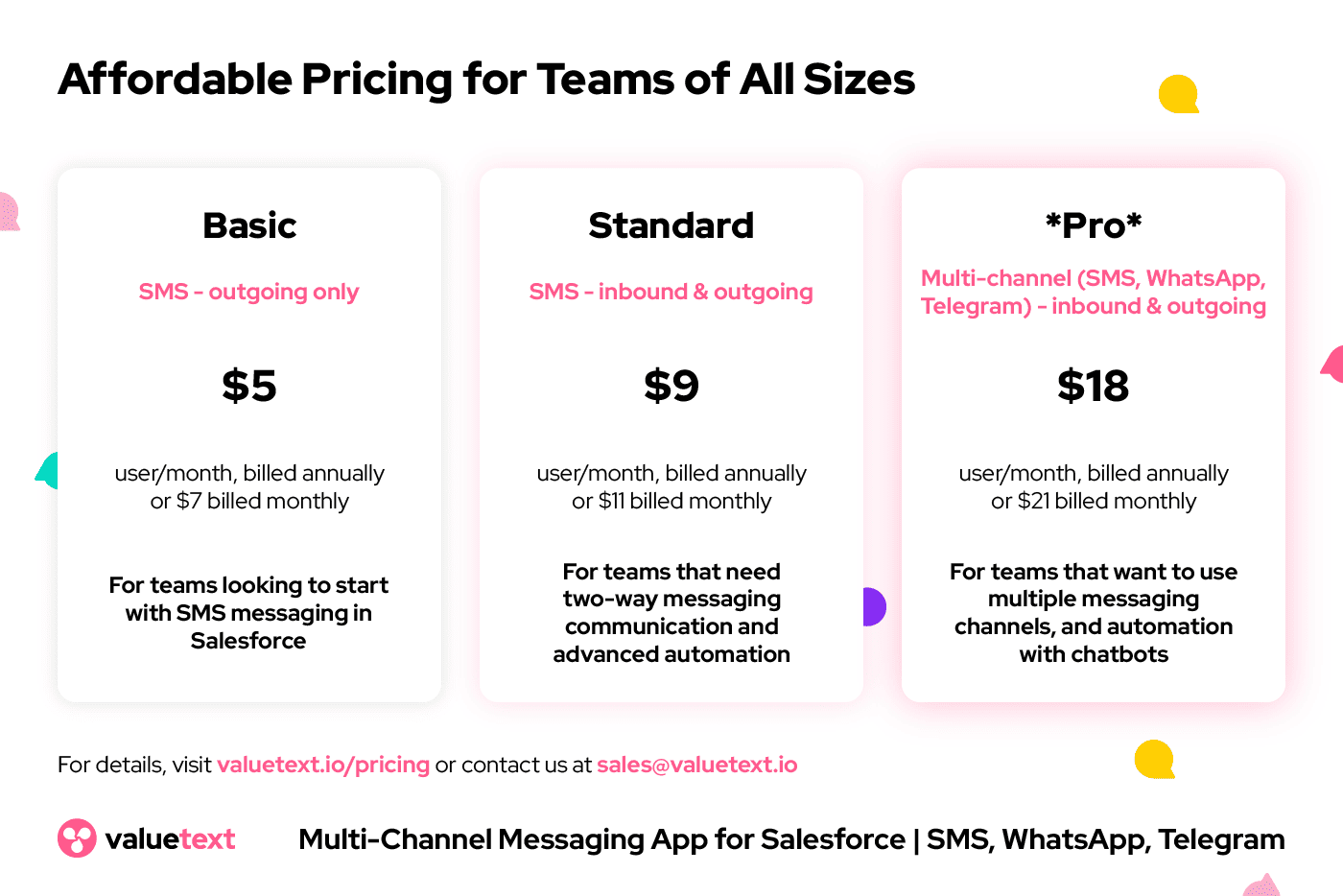 2. SMS Magic
SMS Magic allows businesses to communicate with their customers and prospects via SMS, MMS, WhatsApp, LINE, and Facebook Messenger. SMS Magic runs natively on Salesforce and supports omnichannel messaging on both Sales Cloud and Service Cloud. Even though SMS Magic is among the well-known SMS apps for Salesforce, it doesn't focus exclusively on Salesforce. The company also offers integration with Zoho CRM as well as its stand-alone portal.
The pricing of SMS Magic starts at $7 USD per user per month for its lowest plan.

3. 360 SMS
360 SMS supports communication between customers/prospects and your business through SMS, MMS, Facebook Messenger, Viber, WeChat, and WhatsApp as well as offering voice features through CTI. You can use Campaigns to keep in touch with your customers through multiple channels. Other features include link tracking, event reminders, and automated responses.
360 SMS App starts at $7 USD per user per month for the basic tier. While 360 SMS doesn't publish its pricing publicly, even with higher tiers, you still have to pay extra for additional packages like Automation, WhatsApp, and more.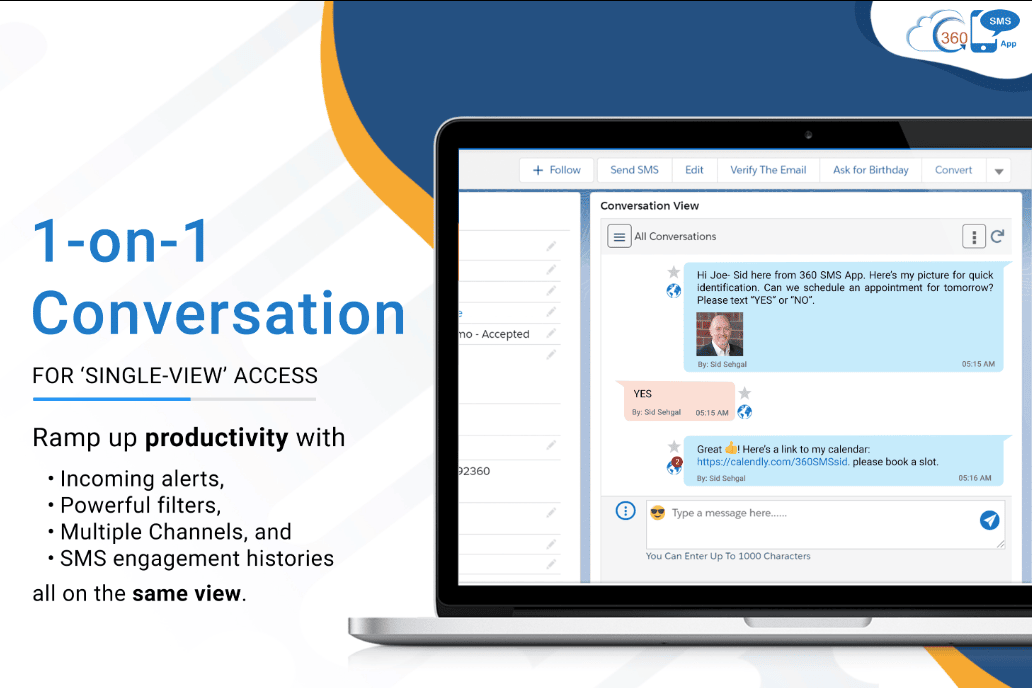 4. Mogli
Mogli allows you to communicate with your customers and prospects via SMS, MMS, and WhatsApp. This native tool is simple to use and can be set up in a very short period of time. You can send SMS and WhatsApp surveys and polls using Mogli with any standard or custom object to help your business quality new leads easily. Mogli works with Pardot, Marketing Cloud, and Omnichannel. The app also allows you to either record and send an audio file of a human voice or have your text read in your chosen language and accent.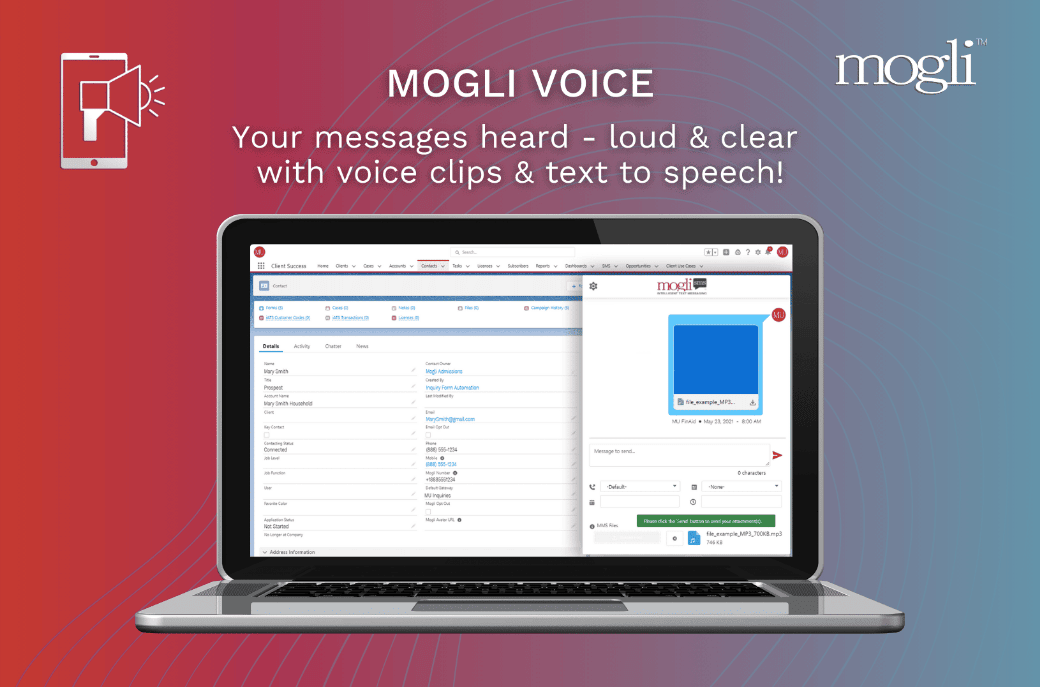 Mogli pricing is structured in a different way where all the plans include unlimited users. The Starter plan starts at USD $3,950 per year for US and Canady only, and more expensive plans, as well as paid add-ons, are available for additional functionality and coverage.
5. Twilio
Twilio SMS claims that its Salesforce package will allow your business to communicate with customers via SMS in just a few minutes. The product offers two-way SMS conversations with Contacts and Leads, personalization with merge fields, scheduled SMS messages, and more.
However, the app seems to have some mixed user reviews on AppExchange so make sure to read them to be aware of any potential issues. Moreover, at the moment of writing this article, the app hasn't been updated for 1.5+ years (since December 2020).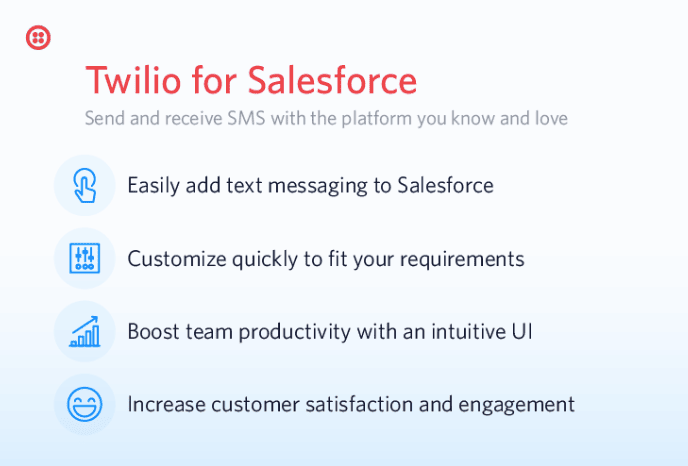 Twilio SMS starts at $15 USD per user per month. It also requires a Twilio account with a payment method.
6. Blackthorn Messaging (Formerly, Textey SMS)
If your business doesn't need multiple channels, then you can leverage the Blackthorn Messaging solution to send and receive SMS communications with your customers and prospects. Blackthorn also supports the ability to automatically send text messages using Salesforce Flow, track links, and enable call forwarding.
Blackthorn Messaging was once known as Textey SMS. Blackthorn starts at $45 USD per company per month.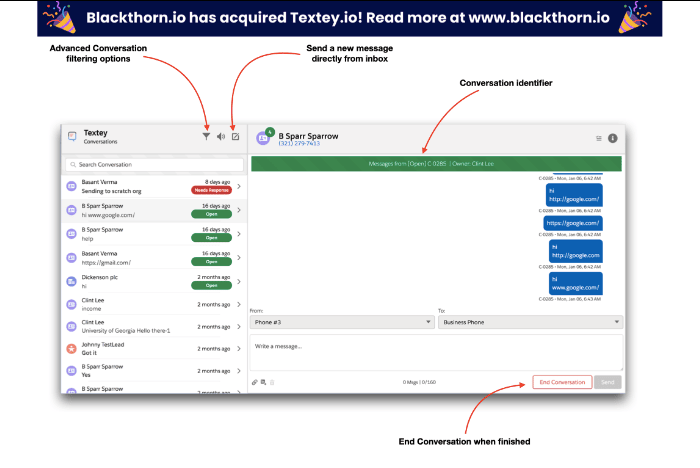 7. Mercury SMS
Last but not least, Mercury SMS also offers the ability to send and receive SMS text messages natively through Salesforce. You can configure bulk SMS from Campaigns, or communicate one-on-one with a specific Lead or Contact. Mercury SMS allows you to configure templated messages using merge fields. It can also automatically create a lead, member, and case through Inbound 'Keyword Actions'. If needed, you can integrate Mercury SMS with Cirrus Insight Inbox App.
While Mercury SMS pricing starts at $10 USD per user per month, please note that a MessageMedia account is also required for full use of this application. The basic MessageMedia accounts start at £25 per month.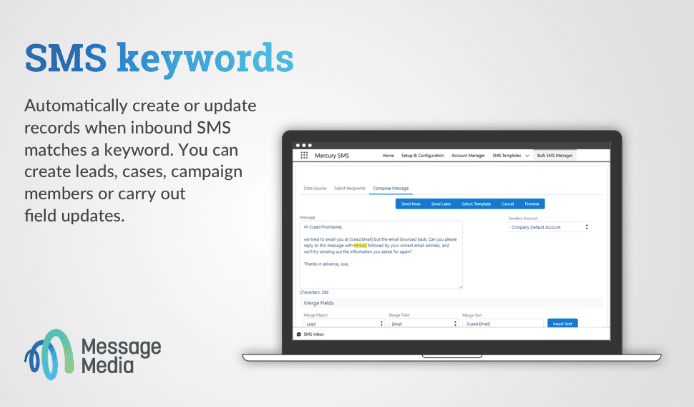 What to Look for in SMS Apps for Salesforce?
When choosing which are the right SMS apps for Salesforce for your specific business, keep these questions in mind:
Does the functionality of these SMS apps for Salesforce cover my needs?
Does this tool support only SMS text messages or other channels as well, such as WhatsApp? Are you able to send messages in bulk from Salesforce List Views, Reports or Campaigns? Can you schedule messages based on a timezone or business hours? Can you automate texting or implement chatbots with these SMS apps for Salesforce?
How easy is it to get started?
Would the app require a complex implementation and onboarding? Would it take several weeks, or several days, or just a few minutes? What about the configuration – do you need your Salesforce Admin to figure out the setup on their own, or would the vendor team support you? For example, in the example of ValueText, their product experts would configure the app for your specific use case and provide training so that you can get up and running in minutes.
Are SMS apps for Salesforce intuitive for end-users?
No matter how great your SMS apps for Salesforce are, they are only useful as long as your team is using them. That is why at ValueText we pay a lot of attention to the intuitiveness of our app, which results in great user adoption for our customers.

Is it affordable?
Unfortunately, the pricing of some of the SMS apps for Salesforce can be tricky. With some vendors, you might get surprised with hidden fees, or additional packages that you didn't expect. So make sure to compare pricing quotes from different vendors to find the right fit for you.
Are You Ready to Get Started with SMS Apps for Salesforce?
The beautiful thing about Salesforce is that it is super easy to extend the functionality of your org with the solutions from AppExchange. There are thousands of apps that you can easily install into your org, including SMS apps for Salesforce.
As a business, you need to decide which tool is right for you. Some apps only support SMS while others, like ValueText, support the ability to connect across SMS, MMS, WhatsApp, and Telegram, in one solution. Your business will also need to decide if they need to avoid storing data, in which case the ValueText no-server option would work a treat.
If you are ready to get started, the easiest way to learn more about ValueText is by booking a personal demo with one of our product experts. You can also check out our AppExchange listing and install a free trial of the ValueText SMS app for Salesforce into a Sandbox today to give it a try.