Today text messaging has turned into one of our main channels of communication, which allows businesses to engage with their clients within seconds. The second biggest channel for communication in Canada is SMS, just after Facebook Messenger capturing nearly 70% of the population. However, with Salesforce's SMS and WhatsApp implementation and businesses' understanding the benefit of digital marketing, there is a risk of spam and electronic threats. Those threats had to be regulated by Canada's anti-spam legislation (CASL).
This article aims to help business understand how to comply with CASL and how to prosper. Mainly, CASL does not allow you to text people without proper opt-in consent. Therefore, we will cover some of the best ways to gain consent and build trust with your customers. Which will be achieved by using some advanced features of ValueText in Salesforce. Despite all the information that you will find in this article we recommend you to reach out to us at: valuetext.io so we can help get the most out of your Salesforce experience.
Canada's Anti-Spam Legislation (CASL)
CASL is one of the most strict governing digital communications to Canadians, not stepping back to the EU's GDPR or the US"s legislation. The law was implemented in 2014 aiming to protect Canadian citizens from spam, and electronic threats while ensuring companies stay competitive in the global market.
CASL requires organizations to have valid written consent from it's target audience before sending them any commercial text messages. This regulation applies to every business or organization who's targeting Canadian citizens. The Office of the Privacy Commissioner (CRTC) and the Competition Burrow has the right to reach out to other countries with similar laws and spam regulations to report organizations that are not compliant with these rules.
Texting in the US:
Commercial Electronic Message (CEM) Definition
According to CASL, a CEM is any message encouraging participation in a "commercial activity." For example, this could be a message that encourages donation, contains a coupon, informs the recipient about a promotion, or any message that aims to sell a product or a service.
However, a message including a hyperlink to a website, contains or aims to spread brand awareness is not considered to be a CEM. Also, courtesy SMS sent to customers out of Canada, confirmations of successful subscription, and publication of social media sites and blog posts on micro-blogging are out of scope as well.
Although this sounds good already, ValueText recommends you gain consent before reaching out to your customers for any of the above-mentioned activities.
How to Comply with CASL in Salesforce
Let's try to not end up like Domino's or Amazon. Who were sued for thousands of dollars for not complying with the US's texting rules and regulations. To avoid this, you have to follow two main steps: gain consent, and allow your customers to unsubscribe.
Tips on how to Opt-in and Opt-out in regards with CASL in Salesforce
Opt-in (gaining consent)
Implied consent
Implied consent is given to those with whom you have "existing non-business relationships" and "existing business relationships."
A Business relationship can be considered when:
two parties have engaged in financial transactions
two parties have signed a contract that is still valid
two parties have engaged in barter in the last two years
A Non-business relationship can be considered when:
a person has made a donation or a gift in case of charity
a perosn performed volunteer work in the last two years
a person has a membership
However, once your relationship with your client has exceeded the specified timeline, the consent is no longer valid. You can use apps like ValueText to automate the whole process of obtaining consent every time it expires.
Expressed Consent
You can include your consent wherever you collect your information. You would normally create a complaint form, email, or paper, and you can set up a keyword for your audience to text your organization over WhatsApp or SMS. For a consent form to be validated, your organization must disclose a few pieces of information:
The privacy policy details
How to opt-out (unsubscribe)
The number of messages a customer should expect
How to get help
For instance, a form could include a checkbox that reads "Subscribe to receive text messages from [name of the organization]" with a hyperlink to all necessary disclosures.
Additionally, customers of ValueText, a Salesforce native messaging app, often prefer to use a keyword query form "START" to conduct a consent. You can create a call to action on any digital and traditional channels (one of them being your website), inviting people to send a text message (keyword) to your organization's address.
For instance, "Text [insert word] to [insert number] for more information about [insert product name]".
We also recommend you to set up a double-opt-in by responding with "We would like to send you helpful information each month regarding "Y." Is this okay with you? Please, respond with YES or NO".
Opt-out (Unsubscribe)
If the person doesn't respond to your opt-in and double-opt-in request, consider that an opt-out. It is important to make the opt-out process easy. Firstly, your customers should be able to opt-out by texting you "STOP," "UNSUBSCRIBE," "OPT-OUT," or "CANCEL."
To make it easier, ValueText provides opt-out backup automation in Salesforce. This automation includes a checkbox that can be found on any Record, effectively blocking any text messages in Salesforce from being sent to that specific Contact.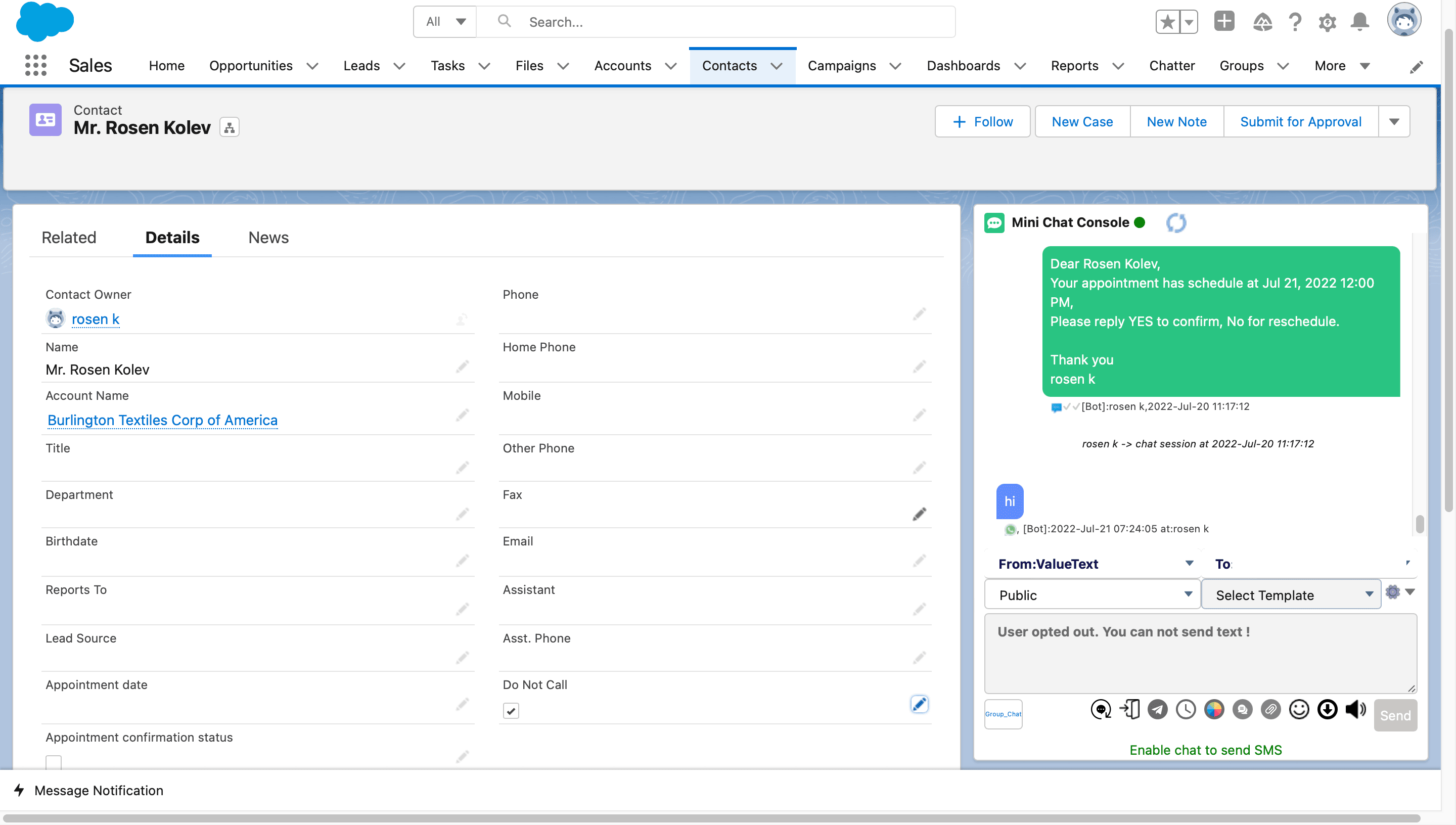 If you are interested in more details regarding the topic, we have written a separate guide which you can access here.
WhatsApp Opt-in in Salesforce
What about if your company also uses other messaging channels like WhatsApp? Well, WhatsApp allows us to initiate text conversations only by sending messages using a pre-approved template.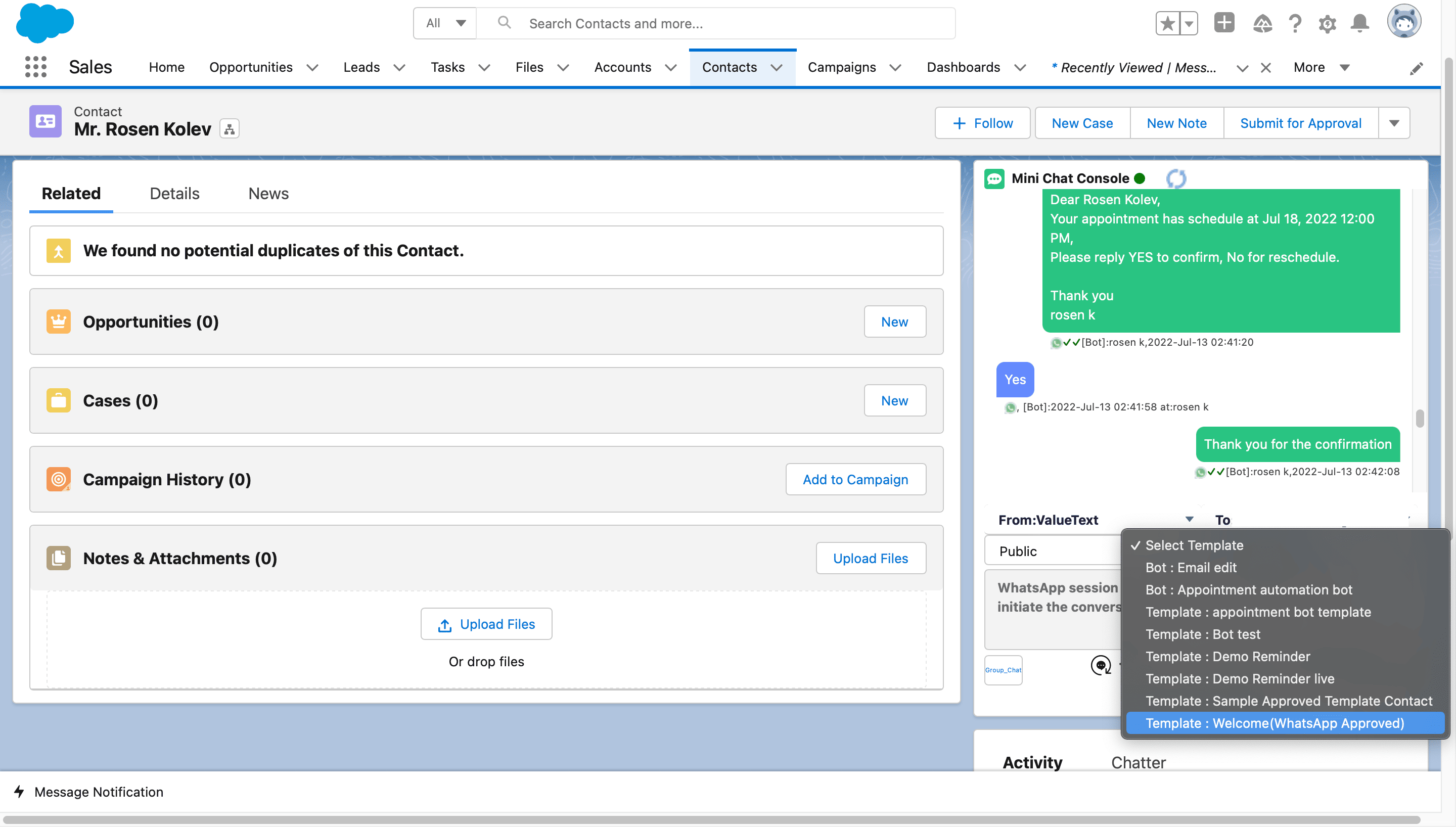 When your customer replies, this is considered an opt-in, and the session will be active for the next 24 hours. If your customer sends you a text message first, a 24-hour session will be activated without you having to gain consent.
Keep a record
Once you have gained consent, you have to keep a record of all the following information:
When the consent was obtained
How was the consent obtained
The purpose of obtaining consent
The way you obtained the consent (Check box, keyword)
If you fail to present this information, you may receive a fine.
CASL in Salesforce Checklist
We have prepared a checklist for you to follow, to build trust between you and your customers and avoid fines.
Gain consent with opt-in using a keyword query
Double-opt-in by sending SMS from Salesforce automatically using ValueText
Set up an easy opt-out using ValueText opt-out process
Consider a no response to a double-opt-in as an opt-out
Make it easy for your customers to get help by creating automation using Chatbots which allow the conversation to be transferred to a live agent if the case is escalated (you can do that with ValueText)
Add value by only sending campaign and promotion-specific text messages
Use ValueText automation to renew the SMS opt-in consent once it has expired
Never sell or share your user's information unless they have given their consent.
Once you've set up your process for SMS Opt-in and Opt-out, we encourage you to get familiar with other best tips for sending SMS from Salesforce.
Conclusion
Despite that, organizations have to follow complex rules and regulations set by CASL, Canadian citizens on the other hand have a much safer and stress-free environment to live in. Also, CASL provides an amazing opportunity for businesses to get creative and build trust, which can impact significantly the ROI.
Navigating through Salesforce and complying with all the laws and regulations might be stressful sometimes. At ValueText, we understand your pain, and we would love to give you a hand in your endeavors. You can contact us at support@valutext.io or on our website here.