In this day and age, there are multiple different channels that your customers may use on a daily basis. When you think about it, the best way to reach your customers USED TO BE through newspaper ads, letterbox drops, or radio ads. And, that was almost the extent of your options. Today, you have the ability to catch your potential customer's attention while they are sitting on the couch and watching television. Not through broad television ads but through direct SMS & WhatsApp text messaging. Texting feels far more personal than a television ad. Even gives your customers the ability to respond immediately with ease through a channel that they are very comfortable and familiar with: their phone. All this can be achieved while you are using the Propertybase Salesforce Edition.
By setting up a direct Salesforce SMS and/or WhatsApp Integration, you are able to communicate directly with your customers through texting. This will help you have both the sent and received messages stored against their Contact record within Salesforce. This functionality is invaluable for any business looking to get in direct contact with their customers through SMS text messaging. After all, SMS text messages get an incredible 98% open rate compared to a 22% open rate for email marketing.
Salesforce's Top-rated Texting App
Are you in need of an easy-to-use texting app with great customer support at an affordable price? If you re then ValueText is a great option to consider as hundreds of Probertybase Salesforce Edition pros' are already using it. It is one of the leading Salesforce messaging apps when it comes to SMS, MMS, WhatsApp, and Telegram integration. Which makes it a complete multi-channel messaging app, natively built for Salesforce.
Whether you need simple 1-to-1 conversations or bulk texting, advanced automation or powerful chatbots, ValueText will get you covered. And your users can choose different chat view layouts based on their preferences.
ValueText also offers the ability to create Dynamic Templates. Which use Salesforce Merge Fields to pull data from Salesforce directly into your messages. This will minimize most of your manual work and make your messages more personal. And you can schedule messages based on a specific time, timezone, or even business hours.
While there is plenty of additional functionality for end-users, your management can simply use standard Salesforce Reports and Dashboards to track the performance of your messages. Super handy!
And to improve the efficiency of your team, with ValueText you can automatically send SMS and WhatsApp messages in Salesforce through native automation tools. This way you can instantly confirm scheduled appointments, send reminders to customers, special personalized offers, and more!
Unlike some of its competitors, ValueText also offers the ability to run without storing any data on the server. This allows customers with strict data privacy requirements to be able to communicate with their customers and prospects while still meeting security requirements.
Last but not least, ValueText offers outstanding customer support and affordable pricing, which starts at only $5 USD per user per month.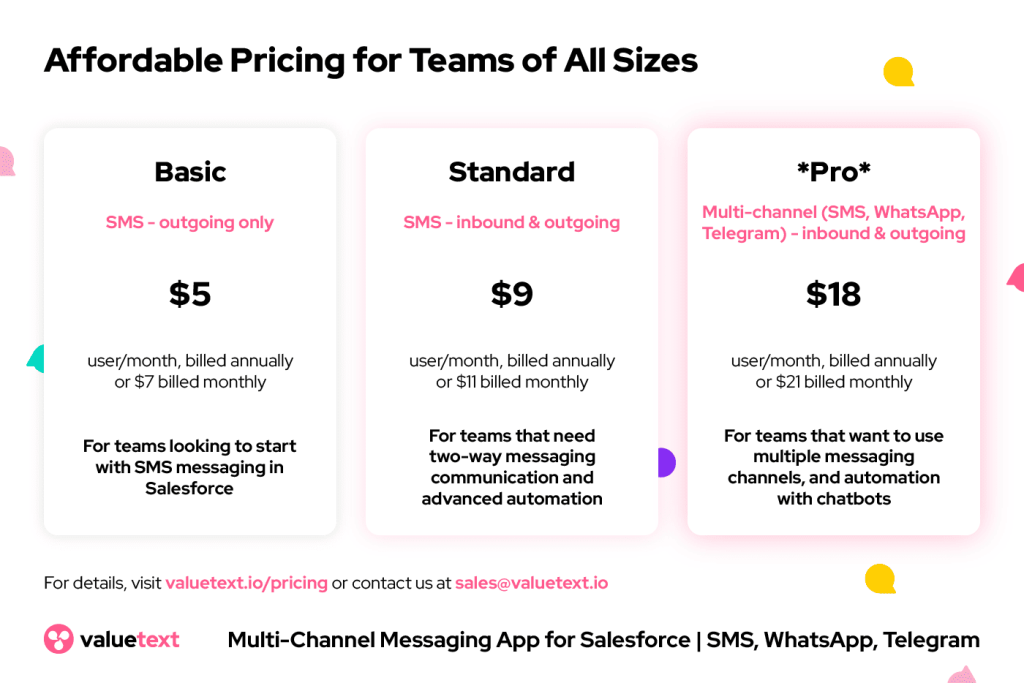 Features & Functionalities that users of Propertybase Salesforce Edition use daily
Of course, with ValueText you can customize everything for your exact use cases. However, we have found that almost every user of Propertybase Salesforce Edition is using the below features to take their agent-client communication to the next level.
Conversations 1-1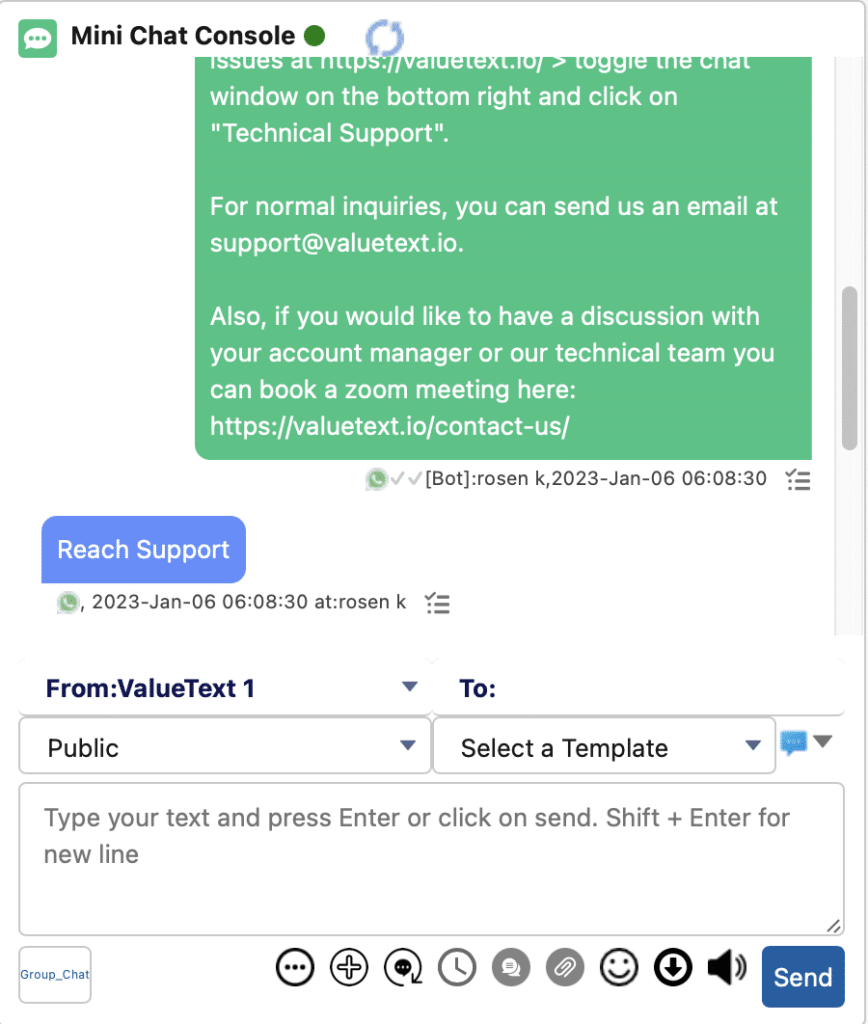 For you to manage your 1-1 conversations we have created a Mini-Chat console. Which you can see just here on the right. In there you have access to the full conversation history. You are able to execute bots, and templates, and simply have communication with your customer. Additionally, you can send files, from Salesforce or from your local PC. You can schedule messages, send reminders, set up auto-replies, have great group chats, and more. As you would see the design is simple and is similar to a WhatsApp chat window. With the idea of the Mini-chat console being familiar and easy to use.
Chatbots and Automation
When it comes down to Chatbots and Automations they are the key factor in reducing cost and increasing productivity, lead generation, and customer engagement semontaniously. The most common use case is when someone goes to your website and signs in (video).
Once you collect their phone number you can send automatically a chatbot to this person. Who will collect information on your behalf. You can ask for the type of property they are looking for, location, budget, etc. After the chatbot has completed collecting the information based on the answers that the person has given you. You can have the conversation automatically assigned to a live agent from the specific area, that has the perfect property for the now potential customer.
Additionally, with automation, you can have messages triggered when there is an update even in a custom field. For example, if someone books an appointment this will update a field in Salesforce. Which will trigger a message to the customer asking for confirmation. Once the customer responds with "YES". This will automatically update another field "Appointment confirmation" without you moving a finger. Use your imagination and reach out to us, so we can show you how to make it possible.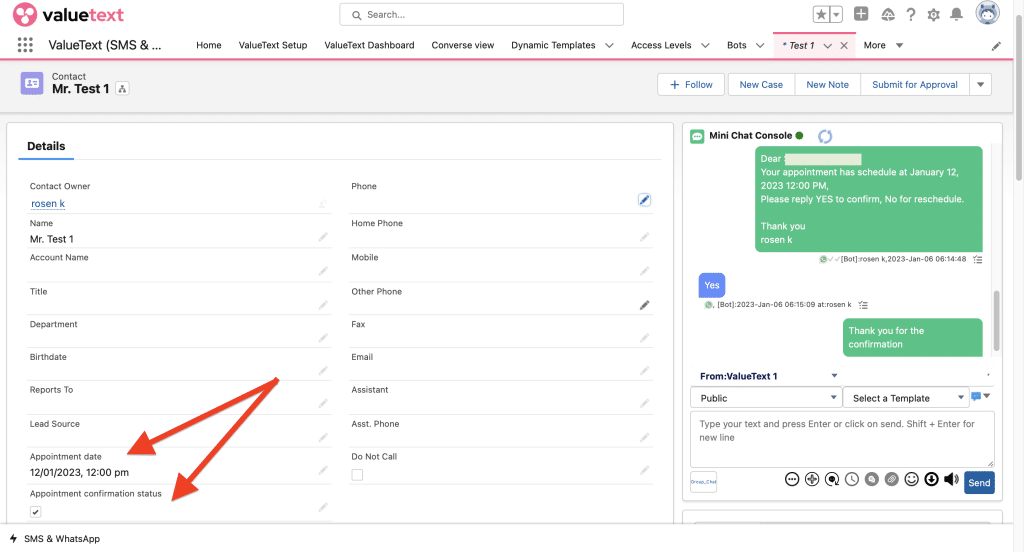 Bulk Texting
When it comes down to sending messages in bulk you have 5 different options to send messages in bulk. "Bulk Texting" is very simple and standard. You can get data (phone numbers), place it in a window, select your template. Also, you can write your custom message and click "Send".
Something more advanced is "Bulk Texting from a List View". Here you can have a list view for example "New Leads from last week" which was automatically filled with leads with the help of our automation. Once you select your list view you can once again select your bot, template, or type your customer messages. In the end, you can even schedule the bulk message. By consider the time difference you can increase your chances of a response, and be more professional by texting people during working hours.
However, "Texting for Reports" seems to be the most preferred option for all because of its "dynamic scheduling" functionality. What this means is that you not only get the benefits from "Bulk Texting" and "Bulk Texting for a list view" but you have the possibility to play with the frequency once you decide to schedule the message. Meaning that you can send a message every Monday and Friday, or on a specific date of the month. Let's say you want to remind something to your customers of the 5th. What you need to do is select the date and fill in the "end date" field.
Now, this is the best part, with "Texting from Reports" you can literally set up the end date to be 2050 because the dynamic scheduling will extract the fresh date from the report which is available at the time of the scheduled message. Imagine that you have a custom field and the date is changing all the time, when there is a change you don't have to go and update your texting from reports because the fresh date will be extracted every single time.
Phone numbers
One of the common questions we get asked by users of Propertybase Salesforce Edition is can every agent has their own phone number, and the answer is "YES". We found that most real estate businesses what the agents to represent themselves. Therefore, if you have 50 agents you can get 50 different phone numbers, one for each agent. Additionally, you can add 1 more number that will represent only your company, this number normally goes to, customer support to establish the connection between the customer and the company. However, if you decide that you want only 1 number that will be used by all of your agents you can. You have the options and the decision is yours.
Preferred Fallback Channel
This is probably the most important part of the article. During your onboarding process, you would have to follow some steps, and one of them is to set up your "preferred fallback channel". This means that you can have your "preferred channel 1" be WhatsApp, "preferred channel 2" be SMS, and "preferred channel 3" Telegram for example.
You are probably asking yourself "how is this the most important part?". Let's say that you send a bulk text to 100 users but only 50 of them are using WhatsApp, our system will recognize this and send an SMS to the other 50 users, if for any reason they don't receive the SMS, our systems will send a Telegram. This is our way to make sure that our messages are always delivered, and with a 98% open rate for texts, you understand why it is very important to have a good delivery rate, right?
Important
Improving your agent-customer communication is crucial for any business, and the best way to do that is to implement a texting solution in your business. With ValueText you will get 24/7 support, an unlimited amount of training so you can become a pro in text communication. Now, the easiest way to learn more about ValueText is by booking a personal demo with one of our product experts. You can also check out our AppExchange listing and install a free trial of the ValueText SMS app for Salesforce into a Sandbox today to give it a try.